LOWE'S HOME IMPROVEMENT INVESTS IN AFFORDABLE HOUSING
In late June, The Lowe's Foundation committed $250,000 toward the renovation of all 25 residential units and two community rooms at The Havens. In addition to financial support, Lowe's associates will also be involved as volunteers with the project.
Residential renovations will include new kitchens and appliances, bathroom upgrades, new flooring, front doors, and lighting. The apartments have not had inside renovations since originally built in the mid 90's. These upgrades will make the units safer, more efficient and enjoyable homes for residents.
The community rooms will receive new flooring, paint, lights, blinds and shelving in the storage rooms. A new kitchenette will be added to the large community room. These renovations will make the common areas suitable for large social gatherings and spaces for community agencies to provide programs for residents.
Lowe's Corporation is headquartered in Mooresville, NC. When presenting the grant, Lowe's Foundation representatives, including CFO David Denton, emphasized the company's commitment to making a difference in their local community. We are very grateful that they have chosen to invest at The Havens!
Learn more about The Havens by going to www.thehavensclt.org.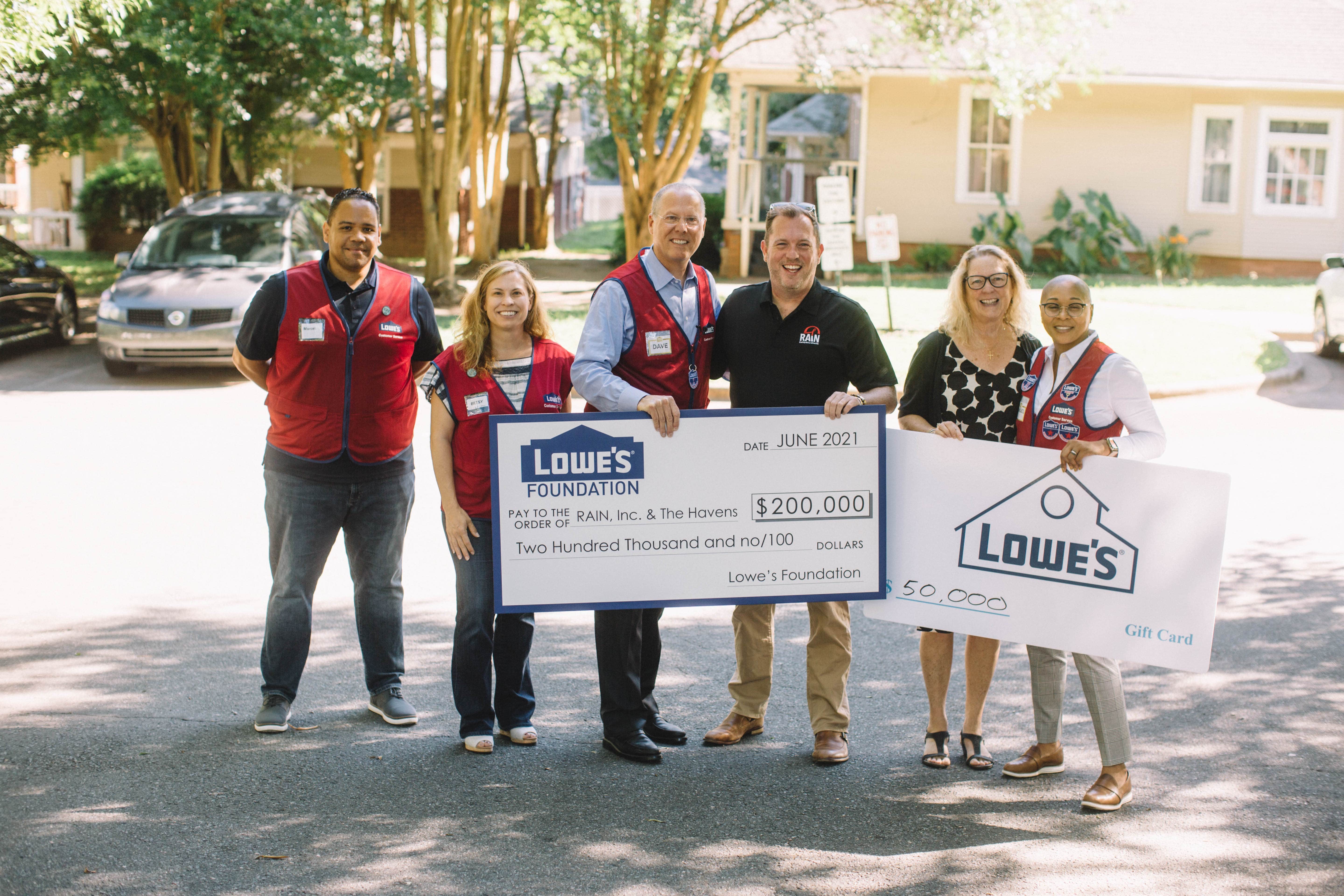 ---

---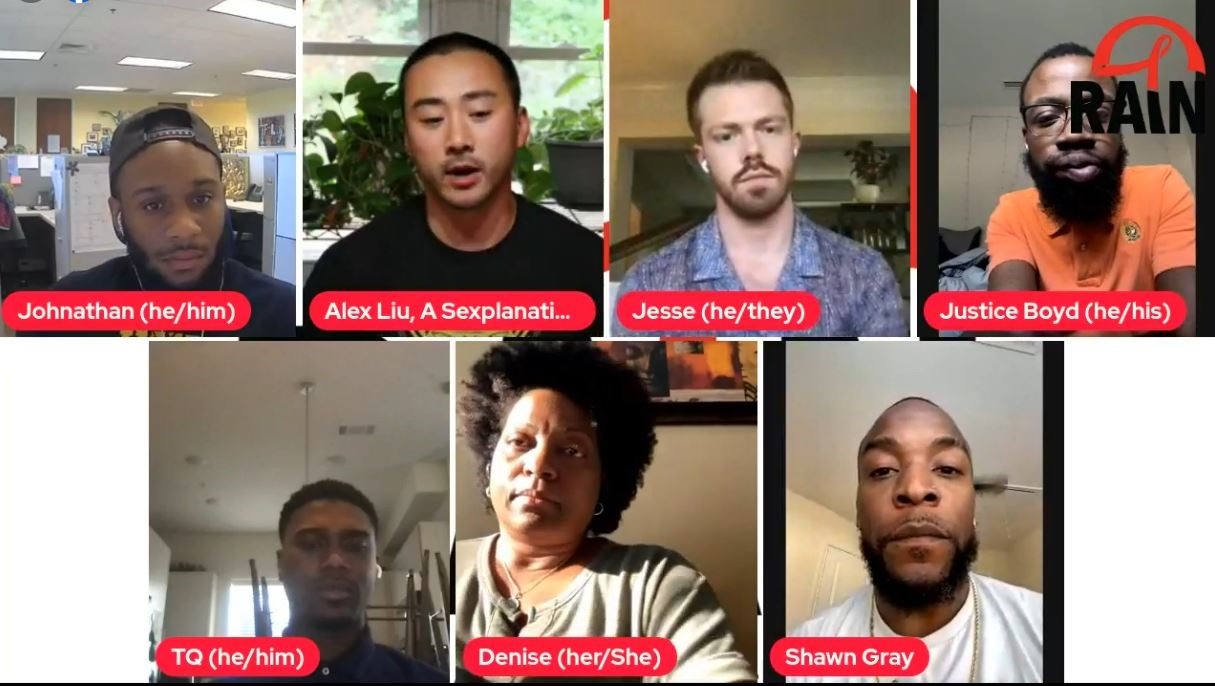 A SEXPLANATION
Keeping It 100 is one of RAIN's signature outreach activities. Attracting hundreds of young adults each week to the live online forum, Keeping It 100 offers real, upfront conversation about sexual health, HIV prevention, healthy relationships and other topics that promote wellness and wellbeing. In early June, Frameline approached RAIN for help in promoting its LGBTQ film festival. Sexplanation was the film that most interested RAIN's staff. Sexplanation is a documentary "to right the wrongs of his all-American sex education, 36-year-old Alex Liu goes on a quest to uncover naked truths and hard facts—no matter how awkward it gets." Keeping It 100 host and RAIN Director of Outreach, Johnny Wilson, said that "youth are not prepared for sex. They are getting the wrong information from peers and adults can be judgmental. Sexplanation helps normalize and promote healthy conversations about sex." RAIN decided to promote the film and then host a discussion on Keeping It 100.
When Alex Liu, writer, director and star of Sexplanation learned about the collaboration, he offered to tune in to the live discussion, offer insights and answer questions. He also gave 50 free movie tickets so that Keeping It 100 participants could see the film before joining the live stream. On June 24, 345 individuals tuned in to Keeping It 100 to meet special guest, Alex Liu and join the discussion. Staff members and participants alike said the program was outstanding. Johnny Wilson said, "it's like fresh air on conversations, words, vocabulary about sex".
This collaboration has garnered Keeping It 100 national attention, bringing new opportunities to introduce interesting people to the Keeping It 100 audience. Stay tuned!
---
A magical, new chapter begins...
Tickets go on sale in late summer.
We are beyond thrilled to announce that Gay Bingo Charlotte is coming back to an in-person event and we can't wait to see all those outfits you come up with. This ain't your grandma's bingo!
VIP Reserved Tables: $550
Front Section Reserved Tables: $500
Back Section Reserved Tables: $450
General Admission: $35
Visit www.gaybingoclt.org for all the details.
---

---
RESEARCH STUDY HIGHLIGHT
The goal of COMPARE is to create an app for gay, bisexual, and other men who have sex with men to increase HIV/STI testing and PrEP uptake. The purpose of the research study is to get opinions and feedback on the app from young men who have sex with men.
We are currently looking for gay, bisexual, or other men who have sex with men who can take part in a 6 to 12-month study. Participants will attend an in-person or online enrollment visit, where some participants will be asked to download the LYNX or MyChoices app to their Android or iOS smart phone, and use it for 6 to 12 months. All participants will be asked to complete an online survey at enrollment and 3 and 6 months after the enrollment visit. Some participants, based on enrollment date, will also be asked to complete an online survey 7-12 months after the enrollment visit.